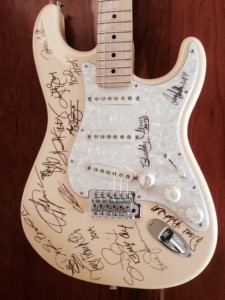 Raffle has ended (4/19/14 4pm EST) Winner will be chosen at 6pm EST.
——-
Walter Trout has been one of my idols and inspirations who has dedicated his life to bringing joy to people with his music. Walter has been battling severe liver disease bravely for the past many months, and is currently at UCLA in and out of Intensive Care, which is a prime facility for liver transplants. I have been in contact with his family to put this raffle together to raise money to help cover some of his medical expenses.  All money will go directly to Walter and his family.  I donated this guitar in hopes to send a message to Walter that he is surrounded the love of his fans. His liver has failed, and doctors say his survival depends on receiving a transplant. Walter has health insurance but this will not cover the full cost of his treatment. The medical expenses, co-pay, medication, after-care, etc. are going to be immense. His passion for his craft, his kindness and his giving personality make him one of the most talented and special people that has ever picked up a guitar. Just like this guitar is smothered with signatures, I hope to send a message to Walter that he is surrounded by love and respect from his peers and fans. Walter will need to cancel much of the tour planned for 2014 leaving him and his family with little income. The timeline is uncertain at this point. Waiting for a suitable liver donor in the hospital can be a lengthy and costly process of many weeks or even months. By buying a raffle ticket you can help give Walter peace of mind and focus solely on his health and recovery before, during and after the transplant, AND you will have a chance to win this one of a kind Fender Deluxe Roadhouse Stratocaster guitar signed by: Buddy Guy Jonny Lang Kenny Wayne Shepherd Noah Hunt Dweezil Zappa Eric Johnson Doyle Bramhall II Chris Layton Eric Gales Ana Popovic Dani Robinson Billy Cox Quinn Sullivan Stan Skibby Albert Cummings Tony Franklin Janie Hendrix
Raffle has ended (4/19/14 4pm EST) Winner will be chosen at 6pm EST.
Guitar Raffle Rules 1. Pricing: 1 ticket for $20 USD. 2. Tickets may be purchased online at www.albertcummings.com. 3. Winning ticket to be drawn April 19th, 2014 4pm. 4. Winner does not need to be present to win. 5. Non-present winners must provide a valid shipping address (no PO boxes) and Albert Cummings will cover shipping & handling costs. 6. A non-present winner will be notified by email on April 19, 2014 and must arrange to receive their prize by 11:59 PM (EST) on April 22, 2014 or will forfeit any prizes.