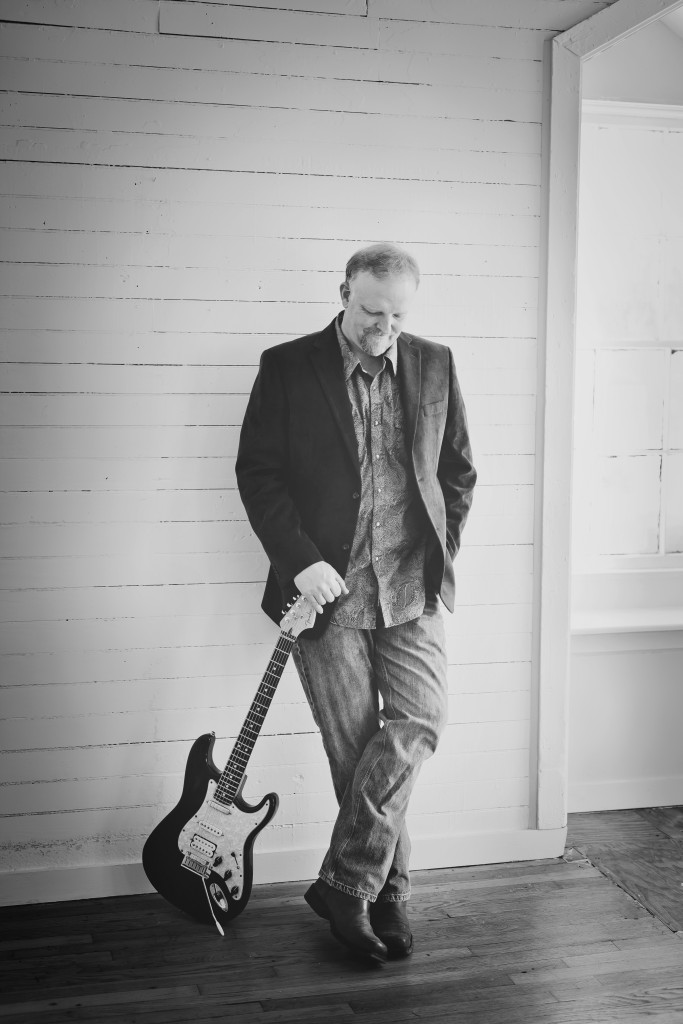 "The blues is best served up live, with an enthusiastic audience and a killin' band, and that's exactly what guitarist Albert Cummings does[…]. Cummings effortlessly shifts from chimney subdued stylings to raucous roadhouse raunch to soaring yet stinging lead lines, driving his audience to frenzy in all the right places." – Guitar Edge Magazine
Albert Cummings writes, plays and sings the blues like nobody else. He has played with blues legends B.B. King, Johnny Winter, and Buddy Guy.  Taken with Albert's fire and passion bassist Tommy Shannon and drummer Chris Layton, of the band Double Trouble, the late Stevie Ray Vaughan's rhythm section, volunteered to play on and produce his solo debut recording, 2003's self-released From the Heart. B.B. King dubbed Cummings "a great guitarist."
 "a barrage of guitar pyrotechnics that calls to mind a grand mix of the styles of past masters like Albert King, Freddie King, Stevie Ray Vaughan and Jimmie Hendrix. – Bluesprint Magazine
Cummings' soulful and explosive approach to blues and rock caught the attention of Blind Pig Records, which signed him to a multi-album deal.
Someone Like You, the latest album from master guitarist, master builder, and fan favorite Albert Cummings, marks his return to noted roots label Blind Pig Records.
The Massachusetts native learned the requisite three chords on the guitar from his father, but then switched to playing banjo at age 12 and became a fan of bluegrass music. In his late teens he encountered the early recordings of Stevie Ray Vaughan and was floored by the virtuosity. While in college in 1987 he saw Vaughan perform and he returned to the guitar with a new outlook and resolve.
The whiz-kid carpenter began his ascent to masterful blues rock guitarist at age 27, with his first public performance on guitar. Soon he was on the Northeast blues circuit with his band, Swamp Yankee. In 1998 he walked into a Northeast Blues Society open jam, which led to Cummings' winning the right to compete in the Blues Foundation's 1999 International Blues Challenge. The following year Albert released his debut recording, The Long Way. Bluesprint magazine said it was "a barrage of guitar pyrotechnics that calls to mind a grand mix of the styles of past masters like Albert King, Freddie King, Stevie Ray Vaughan and Jimmie Hendrix."
That in turn opened up an opportunity for him to work with Double Trouble, the late Stevie Ray Vaughan's rhythm section. So taken with Albert's fire and passion were bassist Tommy Shannon and drummer Chris Layton that they volunteered to play on and produce his solo debut recording, 2003's self-released From the Heart. Recorded in Austin, Texas, it featured Cummings fronting Double Trouble (including Reese Winans) in their first recording project since Stevie Ray's passing. No less a giant of the blues than B.B. King dubbed Cummings "a great guitarist."
Cummings' soulful and explosive approach to blues and rock caught the attention of Blind Pig Records, which signed him to a multi-album deal. On his label debut, True to Yourself, released in 2004, Cummings was again joined by bassist Tommy Shannon. Recorded by producer extraordinaire Jim Gaines (Santana, Stevie Ray, Buddy Guy), the album rocks hard from start to finish. The all-original release showcased Albert's rapidly developing songwriting chops and deeply emotional vocals as well as stunning guitar pyrotechnics, leading Guitar One to exclaim, "He attacks his axe with unbridled ferocity and deep soulfulness… his depth and expression are matched only by his terrifying technique and tone."
Soon tours and shows with blues legends B.B. King, Johnny Winter, Buddy Guy and others brought Albert's music to a much larger audience.
His second release, Working Man (2006), also produced by Jim Gaines, betrays a growing focus and maturity both in Albert's stinging, incisive guitar work as well as in his fluently idiomatic songwriting. From the punchy, stomping cover of Merle Haggard's blue collar standard "Working Man Blues" to the deeply emotive ballad "Last Dance" that closes the disc, Albert's songs are always concise and direct, driven by his uniquely muscular yet polished guitar wizardry. Billboard said, "This recording is the calling card of a blues star who has arrived. Cummings' guitar work is sizzling. This is one of the top blues albums of 2006."
In 2008 Albert recorded his first live album, Feel So Good, in Pittsfield, Massachusetts at the historic Colonial Theatre, a 95-year-old "little jewel box" – that's what James Taylor calls it – that's hosted everyone from Will Rogers to Al Jolson. The audience was so enthralled and supportive they became part of the performance in a way that's rarely heard. As AllMusic put it, "It sounds like it was one hell of a party that night."
Albert and his band responded with a blistering set of great originals and killer covers of Zeppelin, Little Feat and Muddy Waters tunes. With producer Jim Gaines again at the controls and Albert's incredible display of guitar virtuosity and deep emotion, this is one live performance that is bound to become a blues rock classic.
Guitar Edge magazine said, "The blues is best served up live, with an enthusiastic audience and a killin' band, and that's exactly what guitarist Albert Cummings does on his new Feel So Good. Cummings effortlessly shifts from chimney subdued stylings to raucous roadhouse raunch to soaring yet stinging lead lines, driving his audience to frenzy in all the right places."
Music Connection called it "one of the best live albums recorded in a long time" and Blurt added, "Cummings' first live album provides the perfect showcase for the fiery guitarist's axe-handling skills and enormous onstage charisma."
In 2011 Albert released an instructional DVD for the Hal Leonard Corporation entitled Working Man Blues Guitar. Cummings' next CD, No Regrets, was self-released in 2012. It was a return to his true musical roots for the six-string virtuoso, poignantly capturing the core of his influences, displaying the impact that R&B, Rock, Soul, Country and the Blues have had on both his playing and writing. It debuted at #1 on iTunes music charts in the USA, Canada and France.
For his newest recording, Someone Like You, Albert chose to record in Southern California with Grammy-winning producer David Z. (Buddy Guy, Prince, Jonny Lang, Gov't Mule) at the helm. Said Z, "Albert Cummings writes, plays and sings the blues like nobody else. What a blast to watch him jell in the studio with some of the best musicians in Los Angeles." One of those musicians was Blind Pig label mate and leader of The Basic Cable Band on the Conan TV show, Jimmy Vivino, who performs on three cuts. Cummings said, "I'm tremendously excited about this CD and the team of people that will be working this record. It was such a pleasure to also work with David Z and Jimmy Vivino and so exciting to share their excitement about the potential this record has."