Cummings Offers a Sneak Peak with the Release of Track "Hold On," Now Available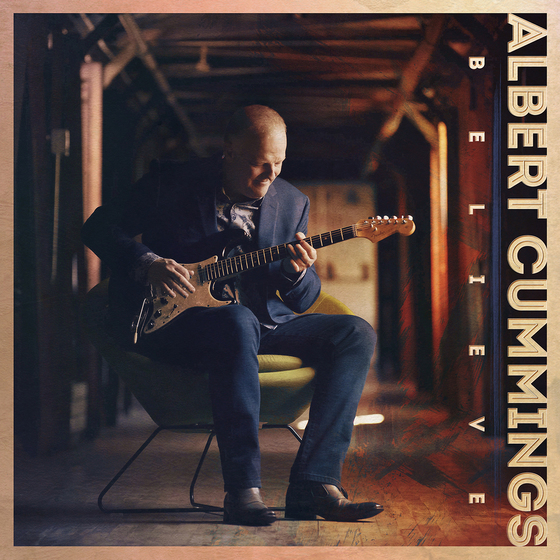 Album Art for Believe | Photo Credit: Jennifer Mardus 
(Nashville, Tenn. – Nov. 22, 2019)
 – Recently signed to Mascot Label Group imprint, Provogue Records, Blues Rock guitarist 
Albert Cummings
 will release a new album, 
Believe
, on 
Feb. 14, 2020
. Featuring a flavorful mix of blues, country, and rock n' roll, the 11-track album is now available for pre-order (
HERE
) with "Hold On," Cummings' rendition of the 1966 soul classic by Sam & Dave, being made available instantly. Watch the lyric video for "Hold On" 
HERE
.
Recorded at the iconic FAME Studios in Muscle Shoals, Ala., Cummings takes this release to new heights with the help of GRAMMY Award-winning producer, 
Jim Gaines
 (
Stevie Ray Vaughan
, Santana). Together, they drew inspiration from the rich recording legacy of Muscle Shoals and created a timeless album full of rhythm, funk, and soul. "You can hear the difference between this album and my others, and that is the Muscle Shoals difference," Cummings says of the new project, "If I had recorded those same songs anywhere else, then 
Believe 
would have sounded like a completely different album."
With a career of recording music that spans nearly 20 years, Cummings has built a reputation through his live performance, bringing the audience on a musical roller coaster. He enchantingly brings his guitar alive in ways that have honored him and earned him praise from the King of Blues himself, B.B. King, while others have drawn comparisons to legends like Stevie Ray Vaughan and Jimi Hendrix.
With Believe, Cummings has created a crossbred of genres through the use of powerful backup singers, steady grooves, a dynamic brass section, and Cummings' mesmerizing guitar riffs.
Believe commands attention right out of the gate with tenacious horns roaring on "Hold On." Cummings sets the tone for the rest of the album by adding his spin on the classic with a captivating guitar solo that fades out, keeping the audience hanging on for more.
The forward-thinking tune, "Going My Way," reflects on the good that comes to those who work hard, saying "They say you get what you give, well it's time for me to receive." Although it is not officially the title track, the song closely follows the theme of the album title, saying "You can have anything you want, all you need to do is believe."
The masterful guitarist brings the electrifying energy he is known for to the forefront of Believe with tracks like "Do What Mama Says" and the Freddie King cover, "Me and My Guitar," while also suggesting a softer tone as he portrays Van Morrison's "Crazy Love."
Cummings' originals highlight where he gets his inspiration from with songs like "Red Rooster" pulling straight from Blues 101, interchanging guitar talking with simple lyrics, while "It's All Good" and "Get Out Of Here" follow a traditional Country music storytelling format. "Call Me Crazy" features his lyricism and ability to play on words.
Cummings has been praised by the media for his ability to pull inspiration from past greats while, "Stylistically, compositionally, lyrically, and vocally [being] very much a distinct entity." – Phantom Tollbooth
Believe will climb on top of the building blocks Cummings has already built as a promising master guitarist, creating a firm foundation for himself as a guitar legend in the making.
Cummings reminisces about his time in recording at the world-famous FAME Studios:  "On the third day of recording, I started listening in on a tour the owners were giving and they were talking about Aretha Franklin recording 'Never Loved a Man.' As they described this, Clayton Ivy [FAME Studio keyboardist] played the infamous lick on the same Wurlitzer piano that was used in Aretha's session. So many greats have been in the studio where we cut this album. I was playing my guitar,looking at a picture on the wall of Duane Allman standing in the same spot I was. It was at that moment that I realized where I was and what an incredible experience I was having."
It wasn't until he was 27 that Cummings publicly played with a band for the first time. Living in Massachusetts, he and his band, Swamp Yankee, got heavily involved with the Northeast Blues Society and started gaining notoriety. Cummings' skill and intensity garnered attention from Double Trouble members Chris Layton and Tommy Shannon, who were so impressed with this relative newcomer that they produced and performed on his first solo record, From the Heart (2001).
After signing a multi-record deal with Blind Pig Records, Tommy Shannon would go on to work with Cummings on his 2004 inaugural release for the label, True To Yourself. Cummings recorded three more stellar albums on the Blind Pig Records label, Working Man (2006), Feel So Good: Albert Cummings Live (2008), and Someone Like You (2015). In 2012, he also self-released the country-rock-blues flavored winner, No Regrets, incorporating multiple musical categories, and highlighting his unique versatility.
Following the success of his first live record, a second was self-released in 2017, Live At The '62 Center. It was recorded in his hometown of Williamstown, Mass., and it's incredible reception garnered Cummings a Blues Music Award nomination for Blues Rock Album.
Cummings will tour throughout next year. His dynamic, engaging personality combined with blues musicianship at its finest has created an enduring, loyal fan base worldwide. For the complete list of dates, and more information on Albert Cummings, visit 
https://albertcummings.com/tour-dates/
Believe Track Listing:
1. Hold On
2. Do What Mama Says
3. Red Rooster
4. Queen Of Mean
5. Crazy Love
6. Get Out Of Here
7. My Babe
8. It's All Good
9. Going My Way
10. Call Me Crazy
11. Me And My Guitar