News Flash
Albert Cummings Wins our Theme Song Contest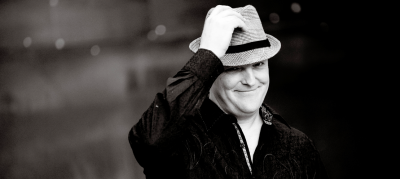 On behalf of the BFG Staff we're proud to announce that Albert Cummings is the winner of the Blues Festival Guide Theme Song Contest! We're thrilled that his poignant song, "The Blues Makes Me Feel So Good," will be playing when fans and industry folks are checking out the 2013 BFG Digital Magazine for the next four months. Our digital magazine is linked from our top ranking blues website www.bluesfestivalguide.com. Congratulations Albert!
Albert messaged us and shared, "Tommy Shannon (SRV) and I wrote this song. People love this song and there are a ton of live videos of the crowds yelling, 'Blues Makes me feel so good,' back to me on festival stages. I hope someday it becomes an anthem for spreading the message that blues is a good thing!"
Cummings grew up on a farm in Massachusetts and learned guitar from his father but turned to banjo at age 12. This country boy discovered Stevie Ray Vaughan in high school and couldn't believe his ears. While in college in 1987 he had the chance to see SRV live and returned to the guitar with a new resolve. However, not until he was 27 did Albert finally decide to go for it.
An intense period of wood shedding resulted in Albert sharing a bill with Double Trouble, the late Stevie Ray Vaughan's rhythm section. So taken with Albert's fire and passion were bassist Tommy Shannon and drummer Chris Layton that they volunteered to play on and produce his debut recording. In 2003 the aptly-titled, From the Heart (Under the Radar), delivers the awesome power of a Nor'easter and the soul of a natural born artist.
A year later Double Trouble joined Cummings again as he signed with Blind Pig Records to create True to Yourself, with legendary producer Jim Gaines. This album features our new theme song!
In 2006 came the blockbuster Working Man, Cummings and his sixth and latest album, No Regrets, debuted at No. 1 in the U.S. and France iTunes blues charts and No. 5 on Billboard blues charts.
…